First of all, the featured photo above is not one of my 12 meaningful photos from 2015. It's meant more as an attention grabber because of its quite ridiculous scope. It's also meant to hopefully contrast 2015 with 2016 because this year I'm hoping to take meaningful photos of other people, not meaningless photos of myself. Saying that, it's still a decent photo, and if I replaced myself with a wedding couple and lit them up with a flash, it'd be a great photo.
I have high expectations that in 2016 I'll be creating many expressive, meaningful photos for other people. My meaningful photos from 2015 reflect my life more than anything, but I'd still like to share them with you and reflect on them. Without further ado, here are 12 (in order of date taken)…
---
Meaningful Photos from 2015
---
1. Jeju Islanders Ball Hockey Team
January 17 , 2015 – I know it sounds pretty crazy that on Jeju Island, South Korea, there are weekly Saturday night ball hockey games and semi-annual tournaments, but it's true – hockey is thriving on Jeju. For proof, you can check out my photos from the most recent tournament, the 2nd Annual Winter Classic.
The hardworking man who founded the team, Dave Cunning (bottom row, second from left), also designed all of the great logos for t-shirts, hats, beanies, and even the heavy-duty hockey jerseys you see in the photo. Without his dedication and desire to see hockey grow from the ground up, there would no hockey on Jeju.
I took this photo of the team on the day the jerseys arrived. It's telling that in only one year's time, only 9 of 19 people in the photo are still on the island. This transience of people is certainly one of the negative aspects of being an expat. It's tough to have seen so many good people come and go so quickly, including founder and captain Dave, but there has been a constant stream of new players since his departure. I'm hopeful that hockey in Jeju will continue to grow in the future.
2. Epic Reunion at Malaysia Wedding
February 5 , 2015 – I felt lucky to be able to take a couple of days off work to travel to Langkawi, Malaysia, to attend my friend Phil's wedding. Phil and I were coworkers and good friends for four years while I was living in Dalian, China. The rest of our international crew of friends came down from China to attend the wedding as well.
We spent several action-packed days catching up, relaxing by a pool, partying hard at night, and waking up with crushing hangovers. But the weekend was perfectly capped off by Phil and Sherman's romantic wedding on the beach, which I helped to photograph as the second photographer.  Definitely a highlight of my year.
3. First Meeting of Granddaughter Lila
March 14 , 2015 – For a couple of weeks in March, my parents visited Jeju for the third time, but it was their first time holding my then three-month-old daughter Lila.
This is one of the first shots I took of the three of them. Obviously, they were very excited to play with and help take care of baby Lila. They even helped organise and prepare for Lila's 100 day party which turned out to be a very joyous occasion.
It was really nice having my parents around to help us out. I wish the distance between us wasn't so great!
4. Jeju's Yeongdeunggut Ritual
April 2 , 2015 – I took this photo during the Unesco-listed Chilmeoridang Yeongdeunggut, one of Jeju's most celebrated shamanic rituals held annually in Sarabong, Jeju city.
I attended the ritual with Jeju Weekly editor Darren Southcott. I'm grateful to him and the paper for giving me the opportunity to experience and photograph the Yeongdeunggut and several other events specific to Jeju and its history.
Check out Darren's article to read more about this strange yet fascinating ritual which honors Jeju's goddess of the wind and seas.
5. Vacation at home in Ohio
April 25 , 2015 – In April, I took a couple of weeks off work to travel back to my hometown in Ohio with my wife and daughter. With my parents' help, my wife and I actually had a small wedding ceremony and reception with my relatives and friends to celebrate my marriage.
This photo of my wife, daughter, and parents' dog Maya is quite memorable and now, also sadly nostalgic. Memorable because that's the house that I lived in/called home for nearly half my life, and now another family is living there. My parents sold the house and moved to Atlanta in the summer to be closer to my older brother and his family.
Sadly nostalgic because very recently Maya had to be put to sleep because of a malignant tumor which was discovered too late. I knew I was saying goodbye to the house when I left, but not Maya. Here's a portrait of Maya that I took three years ago when I was learning and practicing my photography skills. RIP Maya, you will be missed.
 6.  Beach Volleyball in the Summer
May 17 , 2015 – I took this shot of Dan Nabben at last year's spring beach volleyball tournament*. He's one of the founders of Jeju Furey, a non-profit charity for underprivileged families and orphans on Jeju, and the tournament organiser. His team 'Super Monkey Frog Power' was playing in the 'A' bracket finals when I took this photo. It's an appropriate team name when you consider how much Dan's incredible leaping ability helped his team win the game.
Turns out Dan and his family loved the photo so much that it helped lead me to #8 on this list…but first one more sporting moment from the year.
*(Check out my previous blog post about beach volleyball on Jeju to learn more about this massively popular bi-annual event)
7. Jejuventus at the Ulsan Cup 2015
May 24, 2015 – For the past four years, Jeju's local expat football club Jejuventus has traveled to Ulsan, Korea, to participate in the annual Ulsan Cup, a 16-team Korea-wide competitive expat soccer tournament.
Last year, we finished as the Plate Competition Runner-Up team, losing 1-0 in the final. I played goalie in the run-up to the finals (I'm usually a centre-back, but our goalie had to pull out days before the tourney), and actually ended up making some key saves to help our team win two penalty shootouts in a row. It was definitely one of the highest adrenaline-inducing sporting experiences of my life making saves in a knockout game penalty shootout.
The competition at Ulsan was fun and always will be, but it's the friendships forged here on Jeju when we play games and practice during the year which makes being a part of Jejuventus such a meaningful experience.
8. Dan and Suyeon's Wedding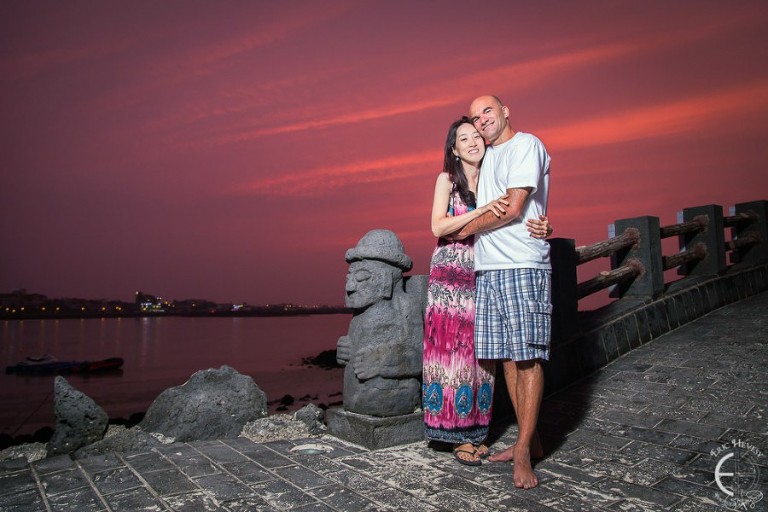 July 4 , 2015 – One night after one of the weekly hockey games, Dan and I were talking about photo #6 on this list. His parents really liked the photo, which lead Dan to propose that maybe I could photograph his upcoming wedding. We talked things over, and I eventually agreed to shoot his wedding ceremony at a church and reception at Hamdeok beach.
Their ceremony was shot in a Korean church with Korean customs, so it was hard to prepare for and then execute shots that I had envisioned. I still managed to capture some memorable moments from the ceremony. Then during the reception, I convinced Dan and Suyeon to allow me to photograph them together at sunset using some techniques I learned from watching Youtube videos of the Australian photographer in Okinawa, Pete Leong. Again, it wasn't easy to get the shots (I've learned since then that learning how to pose people is HUGE for couple's photography), but the stunning Jeju sky helped us capture some great shots.
To be honest, I see this day as a turning point in my life as a photographer. I became a wedding photographer on this day. I was confident in my ability to shoot a wedding and to capture shots that Dan and Suyeon would be happy to view. My knowledge was limited (and since then, I've dedicated most of my time to better that limited knowledge), but the passion, dedication, and belief in myself was there. When I was taking shots of Dan and Suyeon with a beautiful red Jeju sunset behind them, combining what I knew about landscape and portrait photography, I felt wonderful and in my place.
I'd like to thank Dan and Suyeon for giving me the opportunity to photograph their special day. Without them and their believe in me, I honestly wouldn't have made this website or blog at all.
9. Ron and Erin's Wedding Reception
August 8 , 2015 – My knowledge of event and wedding photography grew as a result of Dan and Suyeon's successful shoot, so I accepted a job to photograph Ron and Erin's wedding reception held at Magpies in Tapdong, Jeju-si. Although it was scorching hot and uncomfortable when we went outside to shoot, Ron and Erin were very cooperative and we captured many memorable images of their special day.
Again, I have to thank Ron and Erin for putting their trust in me. Here's to hoping that I'll have more opportunities in 2016 to help engaged and married couples capture meaningful photos on their special day.
10.  Visiting the 4.3 Jeju Peace Park
October 29 , 2015 – Similar to the #4 Yeongdeunggut ritual on this list, I learned more about Jeju while on a photo assignment for the Jeju Weekly at the 4.3 Peace Park (4.3 stands for April 3, 1948, the date when the Jeju uprising and consequential massacre began). I was happy that on this occasion there were other foreigners with better Korean than me who could fill me in on details that I would have missed if I just stayed in the background photographing the scenes.
It was especially a pleasure speaking with Emanuel Pastreich, an American associate professor at Kyung Hee University and director of The Asia Institute in Seoul. He wrote quite an enlightening post about the tragic details about the sculpture seen in the photo above. Read about it on his post: "Flying Snow" and the tragedy of the April 3 Incident in Jeju.
You can also read more about the day's purpose, which was to further the dialogue about what exactly the spirit of 4.3 is here on Jeju: Massacre, culture and healing – Jeju Weekly (by Darren Southcott).
11. Lila's First Birthday Party
November 29 , 2015 – On a lighter note, my marvellous daughter Lila had her first birthday party, which is quite a big deal here in Korea. My parents visited us once again to celebrate and we all had a fantastic time. We even managed to rent and wear traditional Korean clothing – hanbok – at our lunch buffet party.
Lila happened to choose a soccer ball first for her "pick up a toy to choose your future profession" Korean tradition thing, and I was very happy, to say the least. My mother-in-law and wife were pushing for Lila to choose a 50,000 Won bill first (she did pick it up second), but I'm happy that Lila will now 100% definitely be a soccer player because she chose a ball toy on her first birthday.
Whether or not the future of my daughter was determined on this day, I will say that it was a joyous occasion which was capped off with a fun photo shoot at a nearby temple.
12. Christmas
December 25, 2015 – I've always loved the end of December. Every year between December 24th January 1st, I'm usually on holiday and I spend a week partying and celebrating with family and friends (my birthday is Dec. 27 so that makes the week that much more special). Gifts are plentiful, food is bountiful, and the time spent reflecting on the past and planning the future is full of sentiment and optimism. This past year was no exception; it was only more special because it was Lila's 'first' Christmas.
Of course the year then finished with a New Year's Eve bash and then several cliché New Year's resolutions. One of my resolutions was to blog weekly; I've already broken that, but if I start making shorter lists or simplified blog posts, I should be able to keep up.
---
That concludes my top 12 meaningful photos from 2015. I had to leave out quite a few other significant moments from my year, but some of my other meaningful photos do coincide with my previous post – Top 15 Jeju Island Photos 2015 (for example, #10 Camping at Hado Beach).
---
Anyways, please share and comment below with your most meaningful moments from 2015. What will you remember the most from last year? Did you have any epiphanies or realisations that may have a significant effect on your year in 2016?
Thanks for reading. Wish you the best in 2016!